The Top 4 Spring Tree Care Tips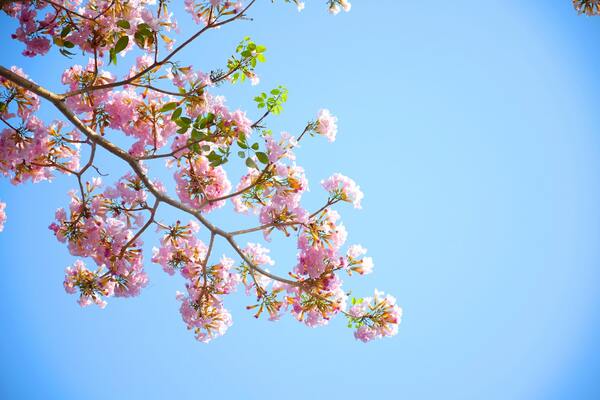 The Top 4 Spring Tree Care Tips
Spring has sprung and it's time to make sure your trees are ready for the changing seasons! What should you be focused on this time of year?
No matter where you live or what kind of trees you have, there are some basics to cover in your landscaping at the beginning of the spring season.
Our Top Suggestions for Spring Tree Care
Here are our top four suggestions for taking care of your trees this spring.
1. Prune Your Trees

Just like every season of the year, pruning your trees in the spring is vitally important.
Proper pruning techniques allow you to remove any unsafe branches that may be a hazard from winter weather damage. It also gives you a chance to assess the trees and ensure that it is in good shape and will continue to thrive on your landscaping.
Here are some great tips for pruning your trees with the best techniques.
2. Top Up And/Or Replace Mulch

Another task to tackle this spring season is either topping up the mulch around your trees or replacing it entirely.
Adding mulch to the area around the trees and to other parts of your landscaping with plant growth allows roots to conserve moisture. Make sure to keep the soil covered with a three to a five-inch layer of mulch starting a few inches away from the trunk base and extending out 1-2 feet from the tree in all directions.
On top of assisting your trees, plants, and flowers with retaining moisture, mulch also suppresses weed growth as well.
Check out our guide on choosing the best mulch for your trees.
3. Check Moisture and General Tree Health

You will also want to check on the moisture levels of your trees as well as their general health.
To check the soil moisture, do so about once a week between 4-6 inches below the surface. The dirt should definitely be moist but not soaking wet.
If you have an irrigation system running through your landscaping, make sure you inspect it for any clogs, leaks, or other damage.
As the season goes on and the trees grow, water them less often but with more liquid. Use about 10 gallons of water for each inch of trunk diameter.
For any weeds that do pop up around your trees, plants, and flowers, make sure to fully remove them from your landscaping as they will steal nutrients and moisture from the trees and plants you want to keep around.
4. Fertilize Trees

Last but not least, make sure your trees get the proper fertilization.
This should be done before trees and shrubs enter their peak growing season. Simply apply a slow-release fertilizer to improve your plants' resistance to insects, weather, and diseases, and replace their nutrients.
Hiring Professionals to Assist with Your Spring Tree Care

While these are tasks you can most likely handle for your trees, you may not have the time, energy, or resources to take care of all of these spring tree care tasks.
If you would like additional assistance with your tree care this spring season, make sure to hire trusted, local tree care professionals to help you out.
For those of you in the San Francisco Bay Area, consider contacting Arborist Now to help you with your spring tree care needs. Give us a call today!
---