A Guide to Removing Trees in Residential Landscapes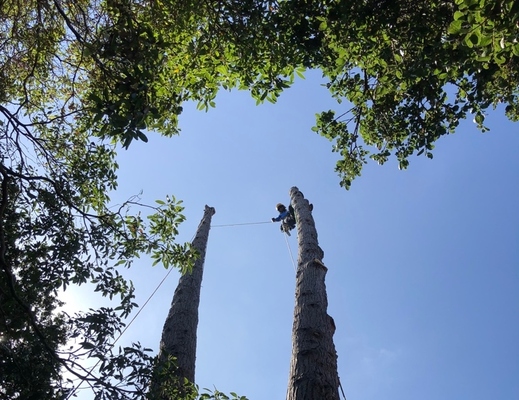 A Guide to Removing Trees in Residential Landscapes
Do you have trees in your landscape that need to be removed? When and how should you do it?
Here are our top tips on ensuring that you are choosing the perfect time and method for removing extremely damaged or dead trees from your residential landscape.
When is the Best Time to Remove Trees from Your Landscaping?

So, when is the best time to remove trees from your landscaping?
It really depends on how dire the situation with a specific tree is. If you have a tree on your property that could potentially fall and cause harm to you or your family, your home, or a sidewalk or road, the sooner it's removed the better. It's better to get it out as soon as possible rather than waiting for the best time of year.
On top of leaning or damaged trees, you will want to remove any with diseases or pests as soon as you can as well. If this isn't done quickly, the issue in question could spread to the rest of your landscape.
If your trees need to be removed and it's not an urgent matter, you would ideally have it done when it's dormant – meaning between late winter and early spring. However, the best way to determine when your trees need to be removed is by having a professional look at it as soon as possible.
How to Remove Trees from Your Residential Landscape

How should you have the trees removed? While it may be tempting to attempt it yourself, it's a better idea to have a professional arborist do it for you. Taking down a tree and removing it safely can be an issue of safety, so it's always better to have someone who has experience with the task.
Contact a local trusted arborist company to help you get started! For those of you in the San Francisco Bay Area, contact Arborist Now for your tree removal needs.

---