A Guide to Having Trees and Retaining Walls in Your Landscaping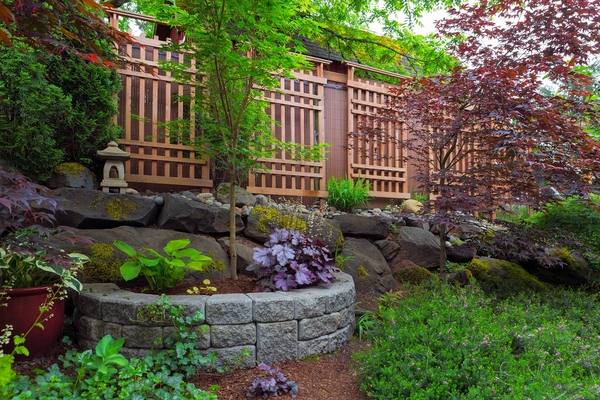 A Guide to Having Trees and Retaining Walls in Your Landscaping
Adding a retaining wall to your landscaping is already quite an intimidating process without even considering your trees and their roots. However, it's an important topic to think about and make a plan for when you want to add one to your yard.
Here's our guide on building retaining walls without damaging your trees and their root systems.
Can Retaining Walls Damage Tree Roots, or Vice Versa?

First of all, it's important to consider what kind of damage a retaining wall could do to your tree's roots or vice versa.
While it doesn't seem likely that your tree roots could hurt a retaining wall, they actually can cause some issues. Since most of your tree's growth happens out of sight under the ground, the roots are sometimes able to creep under the retaining wall to crack or even upheave it entirely if it's too close. Also, certain trees do better near retaining walls over others. Here's a great guide to choosing trees to plant near your walls.
As for the roots becoming damaged, the issue comes in when you build a retaining wall too close to your trees, which we will discuss more in the following section of the blog.
How Close Can a Retaining Wall be to Trees?

When building a retaining wall, how close can you be to your trees?
Truthfully, it's best if you keep the two as far away from each other as possible. If you are lacking in space in your landscaping, however, just make sure to keep the retaining wall far enough that the roots aren't compromised at all.
You ideally don't want to cut, damage, or trim back any of your tree roots. If it's absolutely imperative that you prune the roots back, we highly recommend contacting a trusted, local arborist to assist you with the process.
By trimming the roots without a professional's help, you could potentially deprive the tree of vital nutrients and water. On top of that, doing this can also affect how stable the tree is, and could even further damage or kill the tree later on.
If at all possible, make sure to build your retaining wall past the longest roots of the tree. Again, we recommend hiring professionals to ensure that this is done as safely as possible.
How to Create a Retaining Wall Around a Tree
For those of you that aren't able to or willing to contact professionals to assist with your retaining wall, or for those of you that possess the professional skills yourself, it is possible to do it yourself. Here's a great guide for building one yourself.
Contacting a Professional for Assistance

We highly recommend contacting a trusted, local professional for assistance when it comes to building a retaining wall around or near your trees. Here's a great guide for making sure you are choosing the best arborist company near you.
If you are located in the San Francisco Bay Area, feel free to contact Arborist Now today for assistance with your trees and retaining walls. Whether you just have a few questions or need help with installation, we are here for you!
---