Protecting and Winterizing Your Potted Trees: A Guide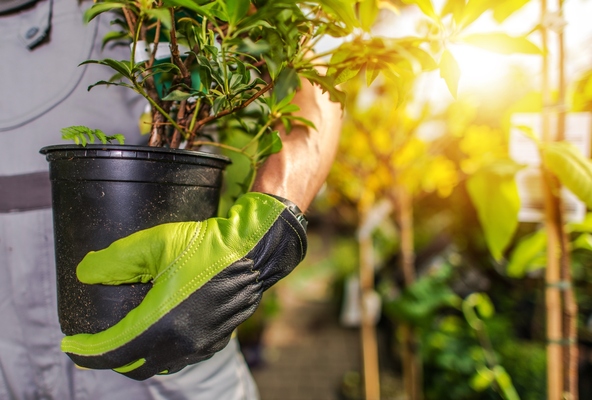 Protecting and Winterizing Your Potted Trees: A Guide
Wondering how to protect your potted trees this winter season? You have come to the right place.
Here are our top tips and tricks for winterizing your potted trees and ensuring that they stay safe and warm this season.
Ways to Protect Your Potted Trees This Winter

Make sure to follow some of these tips for your potted trees. Depending on where you are located, some options may be better suited than others.
Store in a Cool (Indoor) Spot

If you have a spot available that stays between 30-40 degrees (without freezing at all), it may be a viable option for some of your potted trees to keep them indoors. However, depending on the types of trees you are growing, you will want to do your own research and make sure that it's an appropriate spot. Some trees may require more or less sunlight, some may need more warmth than others, etc.
Depending on your home and the types of trees you have, the garage or a shed may be suitable, or you may want to bring them directly into your home.
Temporarily Plant the Tree

For those of you with additional space in your yard for another tree, consider burying the tree in a hole and temporarily planting it in the ground.
If you are doing this, however, make sure that you spread extra insulation on top – this could include leaves, mulch, etc.
Provide the Tree with Warmth

Another great option for protecting your potted trees this winter is to provide them with additional warmth while keeping them outdoors. Again, if you are doing this, it's important to research your local climate and ensure that the trees you are growing can handle this.
To do this, you will need some sort of insulator, like straw, mulch, leaves, etc. Next, you will want to surround the potted tree with some chicken wire, like a small fence. Stuff that area with the insulator you have chosen – doing this will protect the roots of the tree from extreme temperature drops and freezing.
Also, make sure that the mulch, straw, or leaves you are using to insulate are not overly damp or wet. Otherwise, this could cause tissue rot and damage your trees.
Some Final Tips

Here are some final tips for your potted trees:
If the weather is particularly dry, make sure to continue providing your potted trees with water. Doing this is especially important for evergreen trees.
Pots made of fiberglass, wood, or metal are more likely to protect your tree from freezing. Those made from porous materials like terra cotta will not be as protective.
Place outdoor potted trees on soil, rather than concrete. Doing this will ensure that there aren't drastic temperature changes going from day to night.
Group potted trees together – this is best done on either the east or north side of your home, with the strongest trees protecting and surrounding the weaker ones.

If you have additional questions about protecting your trees this winter, make sure to contact a professional tree care company in your area for assistance.
Contacting Professionals About Your Winter Tree Care

For those of you in the San Francisco Bay Area, contact Arborist Now for additional winter tree care help!
---