Utilizing Landscaping Lighting for Your Trees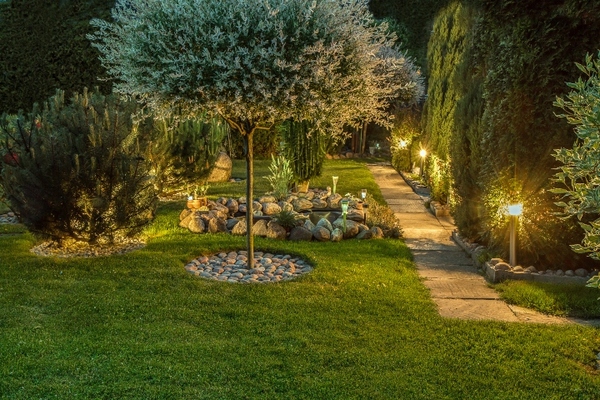 Utilizing Landscaping Lighting for Your Trees
Landscape lighting is super important, and not just for your lawn and garden. Your trees can greatly benefit from it as well.
Here's how you can incorporate your trees into your nighttime landscaping look easily and efficiently.
Where to Focus

First things first, where should your landscaping lighting focus when it comes to the trees on your property?
Your landscape lights can easily be moved and manipulated to highlight the best parts of your trees or to simply make them look more dramatic in the moonlight. Depending on the lights and/or lighting system you have, you may want to play around with the settings and positioning to see what works best for you.
Downlighting and Uplighting
If you are looking to highlight the leaves, lower branches, and trunk, uplighting is going to be the best option. Essentially, this involves using uplights mounted with stakes in the ground pointed up at your trees. It's a great option for trees with attractive bark, like deciduous trees, especially in the wintertime.
For a more artistic and shadowy look on the lawn, consider downlights secured in the branches of trees. It's a great choice to brighten up your lawn and garden, and also for windy areas to cast interesting shadows.
Designing the Layout of Your Tree's Landscape Lighting

Rather than putting lights in and around every single tree on your property, go for a more subtle look. Your lights should be just powerful enough to safely walk by, and not strong enough to read by or annoy your neighbors.
Consider the unique aspects of your trees and landscaping when trying to plan out your lighting. You should also think about the current season, as the changing colors and shapes in your trees may need an update throughout the year.
Adding Landscape Lighting to Your Trees
If you are interested in adding landscape lighting to your trees and don't know where to start, consider talking to a trusted, local professional about getting started. For those of you in the San Mateo and San Francisco Bay Area, consider contacting Arborist Now to help you begin the process!
---