The Top 5 Small Trees for Patios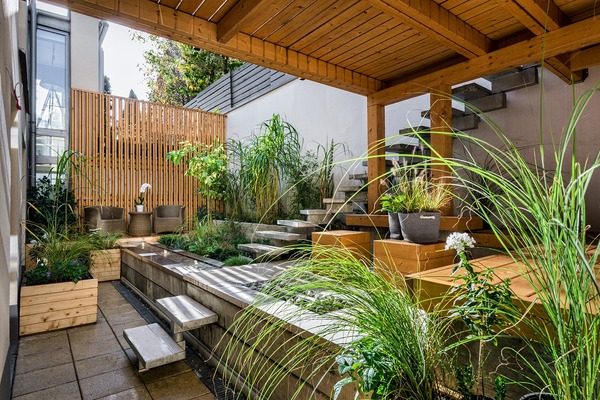 The Top 5 Small Trees for Patios
Patios are an excellent addition to any landscaping – why not add some trees to it as well?
If you are interested in adding in some smaller trees to your hardscaping, we are going to be discussing the aspects you should consider first, and our 5 favorite trees for patios. First, here are the traits to think about before choosing your trees.
What Should You Consider for Your Patio Trees?
Before settling on any specific trees for your patio, here are some things to consider.
The tree's bark, colors in the fall, flowers, and fruit
The biggest height and width the tree could potentially grow to
How messy the trees are: falling fruit, nuts, seeds, etc.
How suitable the tree is for the climate and soil
If you end up choosing a tree that is too big, messy, or otherwise not suited for the area you planted it, transplanting the trees will be much more difficult than doing the initial research beforehand.
Our Favorite Small Trees for Patios
Now that you have a good idea of what to look for in your patio trees, here are our 5 favorite appropriate options.
1. Ornamental Pear
The first patio tree option on our list is the ornamental pear. It's beautiful and will look great on any hardscaping you have on your property. They have beautiful flowers throughout the warmer months and vibrant, colorful leaves once autumn arrives.
In addition to its beauty, the tree is also an excellent source of shade from the sun. If you have a patio that isn't covered, this is a great tree to consider.
One aspect to keep in mind with these trees is that you will need at least two separate trees of different varieties for the sake of cross-pollination and proper fruit set.
2. Ornamental Crabapple
Next up, we have the ornamental crabapple trees.
These are known for their brief display of vibrant white, pink, and red flowers, and they also produce edible fruit as well. The trees come in different sizes, so you can plant some of them in containers in your hardscaping, and others will grow up to 20 feet tall.
Ornamental crabapple trees prefer to grow in a full sun setting and need regular watering and well-drained soil.
3. Palm Trees
Looking for something that looks a little more tropical and exotic? Palm trees are an excellent option for your patio as well.
Just like the other trees we have taken a look at, palm trees come in many different shapes and sizes, making them ideal for any landscaping setting. Just keep in mind that you should know your hardiness zone and whether or not it's appropriate for this type of tree.
These trees will need soil that offers exceptionally good drainage, consider using a mix made for either palm trees or cacti. They should not be sitting in water, and they will need a fertilizer with magnesium in it during the summer months.
4. Japanese Maple
Japanese maple trees are colorful, gorgeous, and stay fairly small for the most part. You will have to re-pot them about once a year as they grow, but they are otherwise extremely low-maintenance.
Their size starts out really small and goes up to around 15 feet. If planting one in a container, just make sure to choose one a few inches wider than the root ball to allow it enough space.
During the summer months, this tree prefers a 10-10-10 fertilizer when it first starts growing leaves, and then monthly throughout the rest of the season.
5. Ficus
Last but not least, we have ficus trees. They live long lives in areas with wet winters and dry summers and give a lovely look to any outdoor area.
These trees can grow up to 25 feet high and wide and has an interesting, twisted body and large leaves. Ficus trees do best in extremely rich, moist soil. There are many different varieties of this type of tree, so no matter the size of your hardscaping, there are options that will work for you.
Our Final Thoughts on Choosing Small Trees for Patios
We hope you were able to find a great tree option for your home patio. If you are in need of further assistance, contact your trusted local tree care specialists for advice on the best trees for you.
For those of you in the San Francisco Bay Area, consider contacting Arborist Now for help choosing and planting the perfect patio trees for you!
---