Arbor Upcycle Partners with Lazy Sunday House: A Sustainable Vacation Rental in Yuca Valley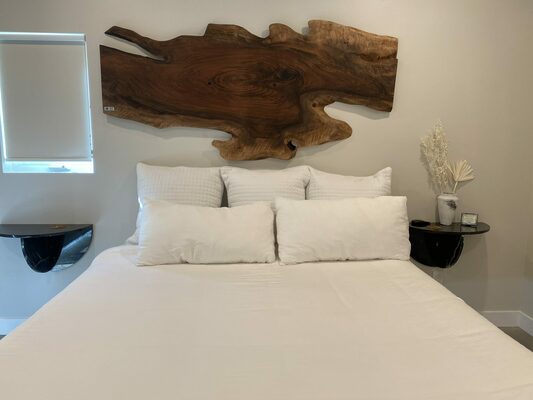 We are so excited to announce our partnership with Lazy Sunday House, a sustainable vacation rental in Yuca Valley, between California's San Bernardino National Forest and Joshua Tree National Park.
Arbor Upcycle created two pieces for Lazy Sunday House with our Luther Burbank Paradox Walnut species. The first piece was a floating live edge desk for the office. The second was a beautiful, unique live edge headboard for one of the bedrooms. Each piece incorporates our Tree History ID QR code that guests can scan and learn more about the Luther Burbank Paradox Walnut tree.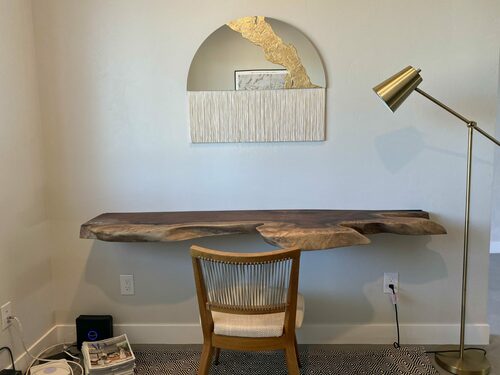 Lazy Sunday House came together after proprietors Stephen and Clarisse Stockerfell in love with the area after many backpacking trips to Joshua Tree National Park, says Public Goods (article below). Lazy Sunday House was started with the vision to, "create a desert haven featuring sustainable design finishes inspired by the breathtaking surrounding landscape." It is a, "tailored and immersive environment where guests can experience a luxurious and ethical lifestyle without compromising either element. Connecting travelers with the true nature and culture of this destination leaving visitors grounded, inspired and enriched."
Arbor Upcycle was recently featured in a Public Goods article written by Melissa Caruso. Public Goods is a consumer-goods membership company rooted in sustainability. You can read the full article here.

The article writes, "Most recently, Lazy Sunday House has recently been outfitted with two stunning live edge wood pieces from Arbor Upcycle, a salvage tree initiative and a millwork shop operating out of the San Francisco Bay area. "This company does some really inspiring work upcycling urban lumber that would normally go to waste and repurposes it into stunning furniture. We're extremely excited to finally announce this partnership in particular," Stocker said.
If you would like to stay at Lazy Sunday House, you can visit their website here.
---