The Top 5 Reasons to Hire an Arborist for Your Commercial Landscape This Summer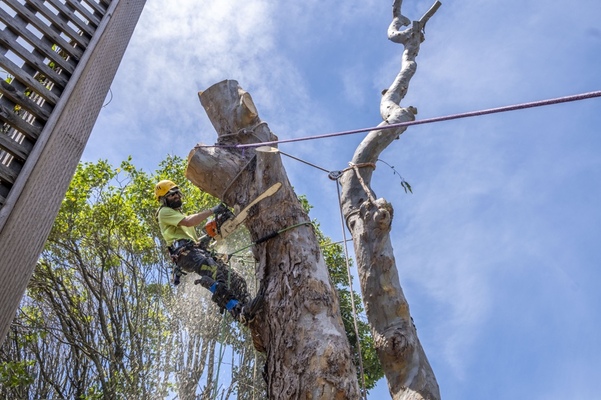 The Top 5 Reasons to Hire an Arborist for Your Commercial Landscape This Summer
If you own and/or manage a business with land around it, you probably know that there are landscaping tasks to be handled. On top of lawn care and gardening, your commercial property's trees need help as well.
So, why should you hire certified arborists for your commercial tree care? Can't you just hire anyone, or even do it yourself? Here are 5 of our top reasons for hiring actual arborists for your tree work.
1. They're Knowledgeable of Local Regulations

One of the most convincing reasons to hire certified arborists over just anyone is how knowledgeable they are of your local and state regulations when it comes to tree removal and other services you may ask for.
When you hire a trained arborist for the job, you have the assurance that everything they are doing is legal and won't have any complications.
2. They'll Provide You With Insurance and Peace of Mind

On top of providing you with the peace of mind knowing that the job is being done legally and correctly, arborists have insurance as well. Having this can help you avoid some sticky situations.
For example, if you just hire someone randomly to work on your commercial trees and they get injured, there could be liability issues. However, if you hire a certified arborist, they will typically carry full insurance to avoid those problems altogether.
3. You're Getting the Best Professional Help Available

When it comes to your commercial property, looking good is most likely a top priority for you. Trees are large, prominent parts of your landscaping, and if they don't look good, nothing else will either.
Having trees that are healthy, thriving, and properly taken care of and pruned will make a world of difference on your commercial property. Certified arborists can make that happen.
4. Emergency Tree Care Assistance

In the case of a heavy storm, which the summer season will bring, emergency tree care needs are certainly a big possibility. To stay as safe as possible, professional arborists are the best option in these situations.
Don't risk the injury by dealing with fallen trees and branches yourself – hire a professional and give yourself the peace of mind.
5. They Can Diagnose Your Trees Accurately

Last but not least, consider the health of your trees this summer. There are many, many different diseases and pests that could seriously damage, or even kill your commercial trees if you are not careful.
Also, diseases and pests can spread easily. So it's important to catch them on one tree before they spread to others.
Hiring an Arborist for Your Commercial Landscape This Summer
If you are interested in hiring a professional arborist for your commercial landscaping, make sure you do the proper research and hire the best in your local area. Here's a great list of qualities to look for in your professional tree care.
For those of you in the San Francisco Bay Area, contact Arborist Now for your commercial tree needs this summer! We offer complete tree care and are happy to help!
---